Common Formulary Public Comment Period is Open!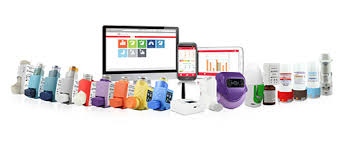 From now until May 17th, the Michigan Medicaid Common Formulary Workgroup is asking for public comment on the Asthma/COPD class of medications. Currently, despite advances in technology, an increase in the options available, and repeated testimony concerning customized therapy regimens and evidence-based care, the Workgroup has been
decreasing
the number of inhaled medications available without onerous prior authorization requirements. This is an excellent opportunity to advocate for some of our most vulnerable citizens, including children, grandmas and grandpas, and working parents.
Why is inhaler selection so important?
Every person has different needs, abilities, and preferences. Studies have shown that the more individual factors are met, the more benefit someone will get from their therapy regimen. Thus, it is critical to have appropriate options available.
Aren't all inhalers the same, anyway?
Not at all! Some (metered-dose inhalers and soft-mist inhalers) contain liquid medication and require a certain amount of coordination and technique to get the appropriate dosage. Dry-powder inhalers don't need as much coordination, but do need a certain amount of inspiratory force to break up the powder into particles you can breathe in. That's why it's so important to take personal AND device factors into account.
Is there evidence to support matching devices with people?
Absolutely. The
American College of Chest Physicians
and the
American College of Asthma, Allergy, and Immunology
published
evidence-based guidelines
back in 2005 that highlighted the importance of evaluating these factors and taking them into account when prescribing a medication/device combo. The
American Association for Respiratory Care
has a
clinical practice guideline
for respiratory therapists, and has published a
guide to help other healthcare providers
(including physicians, nurses, and pharmacists) choose the right device.
Several other studies
have demonstrated the importance of making sure everyone has the right device.
What can I do to help?
You can email
MDHHSCommonFormulary@michigan.gov
and tell them what medications and devices should be available on the Medicare Common Formulary, and ask them to use evidence-based guidelines and recommendations from groups such as the Global Initiative for Chronic Obstructive Lung Disease and the American Thoracic Society to provide optimal care for people living with asthma, COPD, cystic fibrosis, and other chronic lung diseases. There is also a
current petition
(not endorsed by MSRC) with boilerplate text to send to MDHHS, Governor Whitmer's office, and the legislature.