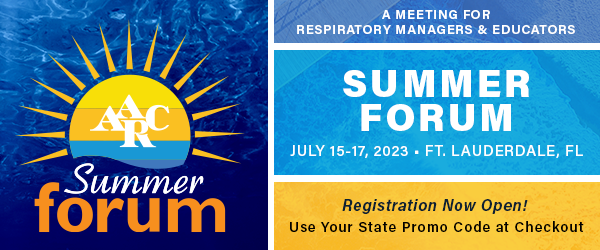 Hello,
Registration is now open for AARC Summer Forum - the annual event designed just for RT Program Directors and Leaders is almost here, and we are excited! Did you know you can save even more on registration just by being a member of your state society? Be sure to use your state promo code when you register. [MI5OFF]
We have a few pro tips for you, to make your registration and travel process as easy as possible.
Ask for your time off now! Whether you've registered yet or not, be sure to go ahead and speak with your leadership about time off. The sooner the better.

Register early! Registering early guarantees you the best price. Registration prices increase the longer you wait.

Save on travel by visiting the 'travel discounts' page on the Summer Forum 2023 website.

Save on your hotel stay by making reservations through the AARC. This is a guaranteed way to get discounts on your stay.
Don't miss it! REGISTER TODAY Be sure to use your state promo code at registration!
See you there,
Michigan Society for Respiratory Care